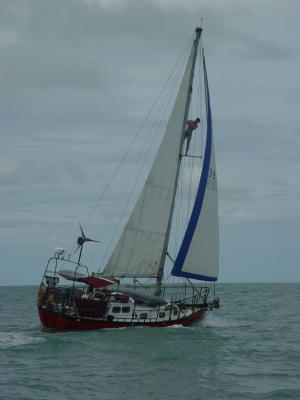 Solo crossing the Java Sea.
In june, 2002, PARPAR sailed out the Straits of Juan De Fuca, into the Pacific Ocean, calling at Hawaii, Kiribati, Cook Islands, Samoa, Wallis and Fiji.
From Fiji, PARPAR sailed to Vanuatu, Australia, The Great Barrier Reef, East Timor, Indonesia and BALI.
Locky then departed solo from Bali to Borneo, in October 2005, and then to the Batam Islands and Singapore, Malaysia and Thailand..........Parpar is now, as of March 2006, in Thailand...Preparing for the Indian Ocean crossing. Life on a small sailboat, if you have the time, is a great means of travel. You can stay places as long as you want, leave if you don't like it, and your home is always with you.
On this site we would like to share our experiences through images, recipes, stories and insights.
Locky and Carolina:
Parpar is our 31 foot steel sailboat.
Tanjung Puting National Park: Orang Utan Sanctuary in South Kalimantan
(Borneo) photo www.Orangutan.org
So little remains of the Orang Utan's habitat, fewer than 7000 individuals are left on Earth today. Our distant cousins, along with the bonobos and gorillas are the last of the large apes, and in the foreseeable future none will live in the wild. Only in Rehabilitation centers and protected, gated preserves. The worldwide Palm Oil Industry has devastated Borneo's rainforests.
Locky
Born in France, Locky has lived in Canada and the USA. But for the last 3 years, has been living full time at sea and in the Pacific on board PARPAR. Including spending a Hurricane season (5 months) on an 8 km2 island on the equator (Tabuaeran Atoll). Sailing, to him, is a way of life. A way to get down to basics. On board, we have room only for necessities, we catch rain for drinking and washing, and our toilet is a plastic bucket