Here we share sailing stories, some of which have been published in sailing magazines...

VANUATU VOYAGING
It was a rainy, squally night in Port Vila and I could hear the anchor chain grinding and snagging on the limestone seafloor below, as Parpar's bow rose up and down in the frothy chop. The cable was stretched out hard, and I had gotten out of my bunk in the middle of the night to let out all 165 feet of chain.
The weight of the chain was holding us but the anchor itself had nothing to bite on, this I knew. I had taken the risk of anchoring here to await a parcel at the post office and the imminent arrival of my cousin Pat, who was taking a month off his busy life as a Rock n' Roll drummer in North America to cruise the Vanuatu Archipelago with Carolina and I aboard PARPAR, our 31 foot red steel cutter.
Carolina and I had arrived in Vanuatu from Fiji, where we had spent two months painting Parpar and rebuilding the Volvo at the quiet Marina in Vuda Point, on the island of Viti Levu. (The Volvo has since been replaced by a shiny new 40hp Yanmar 3JH4 which weighs 4o kilograms less and gets us up to hull-speed at 1750 RPM). Our four day sail from Fiji had started quite spontaneously as we were enjoying ourselves in the Yasawa Group of islands off Fiji's west coast.
In the spectacular south bay of Waya Island, Carolina and I were swimming around and generally living the dream, when the weather started deteriorating rapidly. A southerly wind developed, putting us on a lee shore, and a dense bank of cumulus rolled in from the south. We had already planned to head to Vanuatu from the Yasawas but hadn't planned on leaving right at that instant. However, with the amount of reefs in the vicinity, and the visibility becoming quite poor; we upped anchor and headed strait out to sea, the safest place to be as far as PARPAR was concerned. As the island disappeared astern in the horizontal rain, I could still make out a large blue sloop at anchor, with all awnings and sun covers up. I can only imagine the flailing around and commotion that went on aboard as they tried to cope with the 35 to 40 knot blow. Did they set more anchors and wait it out, or did they also make for sea or one of the bays on the north coast? This last propostion would have been quite difficult given the amount of reefs and horrible visibility.
I had already planned an escape route, and we had 13 miles of reef studded water to negotiate before we got off soundings. With Carolina at the helm under a double reefed main and a third of the jib rolled out, I hollered compass bearings from the nav. Station as I watched our progress on the laptop screen.
For four days it blew and we rolled around. But we made good time. With the boom in the water often, we stayed inside with the aluminium comanionway hatch sealed shut. "Winston", our wind vane, did a beautiful job steering and I congradulated him personally in Vanuatu, after the 500 mile sail, by squirting some oil in his squeaky parts.
Having a simple, home-made windvane self-steering device, enables us to maintain and repair "Winston" without ever ordering spare parts. A task which often delays sailing voyages and sometimes grinds them to a halt. A robust stern-hung rudder makes it easy to rig up a trim-tab style self-steerer, and eliminates the need for steering wheels, through hull rudder shafts and all the other complications associated with a free-hanging fin-type rudder.
Once sheltered within Port Vila's inner harbor amongst other yachts, we heard an American yacht had been knocked down on the same passage and had arrived just a few hours after us.
With the prevailing winds in Vanuatu being the South-East trades, and with the island chain running North from Efate, we were to expect winds from astern all the way to the island of Espiritu Santo, the logical jump-off point towards Queensland, Australia.
On our first day we daysailed to Havannah Habor, a landlocked body of water on the North coast of Efate Island. We hugged the coast with full sail, close hauled as gusts blew down from the hills heeling PARPAR over onto the port beam.
We anchored in Mud and the shoreline was a thick line of mangrove forest. We were visited by several local villagers in outriggers who bartered fruits and vegetables, and told us of the recent Survivor television series that had been filmed in their bay.
I was hoping to visit Ringdove Bay on Epi Island, an overnight sail north from Havannah Harbor but as we plowed past the island at 3 in the morning, I realized awaiting daybreak would prove to be more effort than it was worth.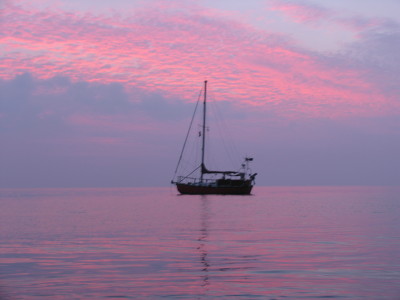 BALI TO GILI AIR> heading towards Borneo
The reversal of the Monsoon was approaching, as Parpar lay at anchor in the brown lagoon at Benoa, on the island of Bali. In fact, the transitional period had already begun, I had seen the first squall drift over the anchorage from the Northwest. Only a week before it was all trade winds and clear skies. Now a flat, humid calm hung over the island. Rain fell for the first time in months. It was time to up anchor and get moving.
Parpar had been anchored in Bali a month and a half. I had pulled out the propeller shaft to install a new coupling and figure out why there was so much vibration and movement around the stuffing box.
It came down to the engine mounts being too soft. In Cairns, Australia, I had installed a new Yanmar 3JH4E. The brand new Yanmar mounts were ridiculously soft and, at sea I watched as the engine swayed back and forth with the boat's motion.
Now, a little late in the season, I needed to cross the Java Sea, and Singapore Straits, and eventually head up towards Thailand.
My girlfriend was home visiting family, whom she hadn't seen since we had left the boat in Fiji, one and a half years before. She had purchased a return airline ticket to Singapore, so I was on my own for the next 1000 miles and twenty days at sea.
Parpar is easy enough to sail singlehanded, however the lack of wind and quantity of cargo ships, fishing boats, and other hazards such as fish rafts and stakes, made me a little apprehensive. I knew this was not going to be like sailing downwind in the South Pacific trades, where days went by without sighting a single ship, and the ocean was deep for hundreds of miles in front of the bow.
I perused the chart the day before my departure and came across such strange annotations as "dangerous wreck, position uncertain, use caution" and "some wrecks and other hazards have been omitted from the 10meter contour, use caution". In any case, October 12 came along and if I wanted to get to Singapore before 20 knot headwinds kicked into full swing, it was time to go.
The Lombok Strait, separating the islands of Bali and Lombok, has a strong tidal stream, which sets south most of the time. This was to be my first sea-trial since I had reinstalled the propeller shaft, realigned the engine, and placed shims under the engine mounts to lower the engine's relative position on the four adjustable mounting bolts. This, I hoped, would inhibit the pendulum motion the engine was prone to develop, sitting high on his mounts.
Once clear of the anchorage, I peaked down into the engine room. The shaft was spinning smoothly and the engine, at 2000RPM was not vibrating excessively.
A friend, Alf, on the yacht Freedom Fargo, was heading west as well, so we decided to set sail on the same day. I gave him a rendez-vous on Lembogan Island. There I wanted to scrub the propeller and do a few other underwater chores, which the murky water of Bali's harbour prevented me from performing.
After a slow sail against the current I reached Lembogan on a beam reach, and took a mooring from one of the day charter catamarans that ferry tourists to and from Bali.
I was feeling great. The water was so clear, my mooring's chain was visible to the seafloor. Slow swimming groupers and bright coral heads speckled the bottom. Silence on board was broken by the squelch of the VHF radio, Alf's thick south german accent called " hey Locky, why don't you put your dinghy in the water, and come for dinner, I'll try to catch something to eat".
Alf was also sailing solo, as he had just finished a charter, and his next guests weren't coming on board until Malaysia, 1000 miles away.
The next morning at dawn I hoisted anchor and began motoring into a 4 knot current that lasted all of Lembogan's west coast. On the northern tip I rode a favorable current about 6 miles eastward and by that time the heat of the day brought the trades which pushed me along under full sail up the eastern side of the Lombok Strait 28 miles to Gili Air, a small island off Lombok's Northwest tip.
Having made my official clearance out of Indonesia at Bali, I had my reservations about wandering around Gili Air, but once on land it was obvious this was a very relaxed place. The waterfront was lined with little Warung (eateries) and bars. A bartender leaned over to me as I walked past and said out loud, "here Gili Air, no police, no problem…". I was relieved. As I found out in Indonesia, you can get out of most situations, but you must be willing to pay. The Police take advantage of the already corrupt system by stopping Giri (tourists/foreigners) on the street for no reason. Then, one officer usually makes up an intimidating story of what violation has occurred, and so on….Then they say, you must report to the judge, but all this can be solved right here for…..10US. Actually I got quite used to this in Indonesia and got into the habit of bargaining down the price. Or sometimes I would pull out my French I.d. card, which looked quite official, and tell them I worked at the French Consulate, this guaranteed they let me on my way with no further hassle. I think I pulled that one about four times.
Gili Air was a rolly anchorage, open to the wide Lombok Strait and the Indian Ocean…after two days it was time to sail north to Kangean a small island a third of the way to Kalimantan.…
………..to be continued…next up my autopilot breaks on a windy rainy night off the south coast of Kalimantan and I watch in vain, my futile efforts over the vhf and with a spotlight, as my friend Alf gets run down by a freighter.



SV PARPAR - 2004-2005 VOYAGES - by Locky

Since our last dispatch from the Republic of Kiribati, PARPAR has left the Pacific Ocean in his wake. I am writing from the island of Bali, Indonesia, where we are anchored in a well protected but dirty lagoon. It is a busy harbour. Diesel powered Penisis; wide bellied cargo schooners, putput in and out of Benoa harbour bound for Java, Lombok and the outer islands. With over 17000 islands, and a long tradition of boat building (the Bugis peoples of Sulawesi) Indonesians are a seafaring people.

I sailed Parpar here, with little wind, from the island of Rinca, where the famed Komodo dragons live. One day as I was just pulling the dinghy up on the beach, one of these phenomenal lizards came out of the bush and onto the sand. About the size of a dog, it ignored me completely and went about its business. My last port of departure before Indonesia was the tiny new country of East Timor. The capital, Dili, is a dusty hot bustling town, set at the foot of a ridge of mountains, running along the coast. A seawall shaded by large fig trees lines the shore, and behind it are the white Roman columned capital buildings, all built when East Timor was a colony of Portugal.

In the 1970's Portugal's socialist government at the time felt it could no longer support its overseas territories and let go of East Timor. Unortunately, Independence had not yet arrived. The Indonesian military quickly took control of the country. A resistance movement led to fighting in the streets of Dili, a massacre of civilians took place at the Catholic Church, and finally thirty years and thousands of lives later, East Timor has just recently gained its Independence with help from the UN. As a visitor I felt genuinely welcomed to East Timor, which has a long road to travel to heal the wounds of such a scarred past.

I had arrived in East Timor from Thursday Island in the Torres Straits, 900 nautical miles to the East. The Torres Straits region of Australia's Far Northern Queensland, is speckled with reefs, islands, strong South-Easterly winds and a notorious current. PARPAR achieved his highest velocity under sail to date helped by the strong north setting current up the Coral Coast of Australia, a wonderful cruising ground. As long as you are heading North. The channels between the reefs, although quite narrow, are well lit at night and there are anchorages in and amongst the tiny reef islands all the way up the coast. However, I often found myself climbing up the mast to find my way into a sheltered lagoon.

Australia was PARPAR's home for over six months while I worked in New South Wales and saved up to give him a refit. After spending two years in Polynesia and Melanesia, Australia was both a shock and a welcome contrast to the island life we aboard PARPAR had been accustomed to. In the port of Cairns, Quarantine began our welcome by confiscating two large garbage bags full of our food and supplies, which they deemed a risk to the country. They even took our Popcorn!

Parpar's old and tired Volvo motor was finally pulled out for the last time. (It had been rebuilt in Fiji) As PARPAR is steel, it was easy enough to weld risers on the engine mounts to accommodate the new Yanmar 3 cylinder naturally aspirated motor. Its 39hp is a lot for a 30 foot sailboat, but I wanted something I could use at low rpm's and have reserve power if I needed it, coming into a lagoon pass or fighting against a strong current with no wind. It has proved over the last three months to be very useful. Here in Indonesia currents through some straits run at 7 knots.

Before reaching Australia last season, we sailed from Fiji to Vanuatu, in a Southerly gale in which another sailboat was knocked down. We kept well reefed and stayed inside with the aluminium companionway hatch closed for the better part of three days, as PARPAR ran at 6 knots under wind vane.

In the capital Port Vila, we were joined by my cousin Pat Graham of Vancouver, after which we sailed north and west through the island chain. The people in Vanuatu are some of the friendliest in the world. We drank the traditional Kava brew inside a Nakamal (a chiefs ceremonial building) and were genuinely welcomed and felt at home in this beautiful island nation. There was a high risk of malaria while we were there as the crew of four other sailboats we met had contracted the disease.

In the bay of Loltong on the island of Pentecost, we anchored in fifteen feet of sand and were visited daily by a dugong, a large marine mammal of the Serenian species.

Presently, in South East Asia, the sailing is quite different to the Pacific. Obviously the islands are more crowded, plagued by tourists and backpackers. Whereas in the Pacific we savored isolated anchorages and untouched beaches, here in the East Indian Ocean, we immerse ourselves in the culinary and the cultural. We contend with traffic on our way back to the boat from town. We look around and realize that the place is buzzing with the daily grind of people living in the 9 to 5. Yes even here in Bali.

Whereto next? Well, we haven't decided yet but I have a feeling it will be a little bit off the beaten track.

For more info on PARPAR'S sailing voyages and more stories feel free to email us at: sailparpar@yahoo.ca